CARF F-100 D Super Sabre Thunderbirds Scheme
The CARF-Models F-100 SuperSabre scale jet!. CALL TO ORDER.
Description
The Thunderbirds have flown the F-100 Super Sabre for many years. First from 1956 to 1964 with the C-model, and then after a short move to the F-105 Tunderchief, again back to the F-100 D-model until 1968. Besides today's F-16, the Super Sabre became synonimous with the Thunderbirds Team. The color scheme fits this aircraft so well, so natural. 
The model is painted in the molds and features a single color hot section. The Thunderbirds actually polished their aircraft pretty often so that the typical heavy colouring of the hot section practically never occured. But admittedly it is one very nice feature, so CARF-Models can paint the hot section in layers of platinum paint, in order to create the coloring effect by wet sanding the areas. This is available at an additional charge and must be ordered before the model is produced. 
A decal set of some smaller graphics is inlcuded in the kit.
General Information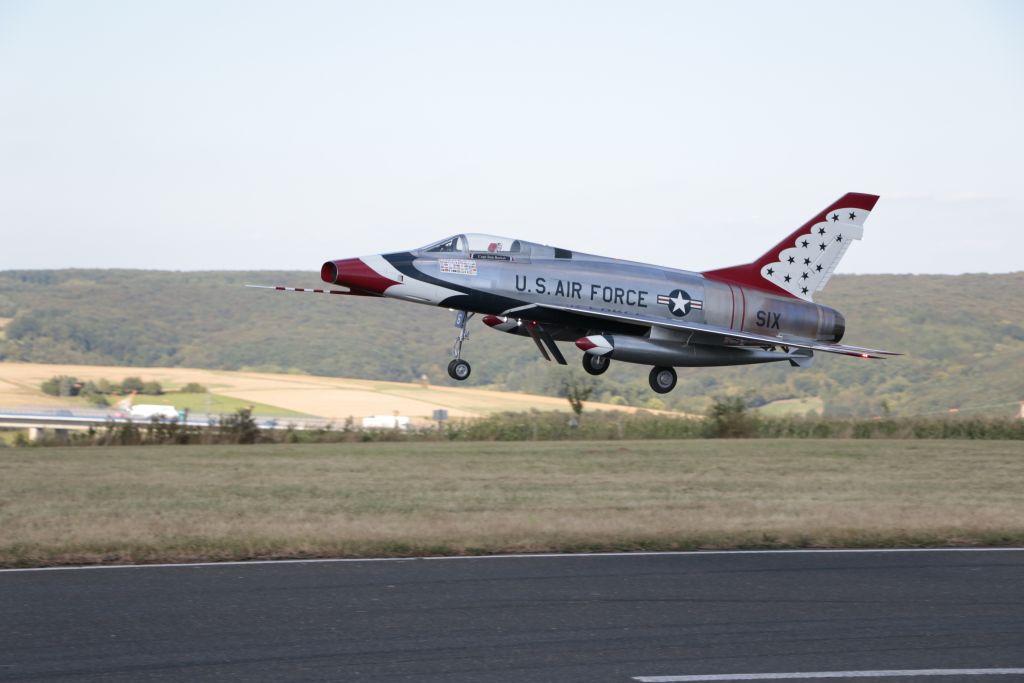 Often referred to as the Hun, a shortened version of "one hundred", the F-100 Super Sabre served with the United States Air Force (USAF) from 1954 to 1971 and with the Air National Guard (ANG) until 1979. It was the first USAF fighter capable of supersonic speed in level flight.
The CARF-Models F-100 SuperSabre scale jet has a long history and an interesting story to tell, but ultimately the cooperation during a gone-by era between CARF and Elite Aerosports signs responsible for its absolutely outstanding scale fidelity and performance. It is an "industry first" in many ways, but mainly we have taken the decision to offer this aircraft as a model over 25 kg. Not an issue in many countries outside Europe, it poses a little challenge for our European customers to certify this model aircraft in the class between 25 and 150 kg take off weight. CARF Models, however, provides all necessary type rating data and documentation so that a registration and certification will be a piece of cake - an industry first, indeed. That little challenge is nothing compared to the benefits of building a "real" aircraft, which acts and behaves just like the full scale Super Sabre would. It's not a paperplane. Not a kite. It is a real men's toy almost exploding from raw power and performance. No compromises, no limitations. This results in flying characteristics unheard of. High Alpha approaches and touch downs due to the appropriate wing loading and the scale airfoils show the model's unbelievable scale character, and the landing gear is designed to cope with these scale landings as well. Pricless when the drogue chute deploys and brings the fighter to a standstill in a shorter distance than you'd imagine.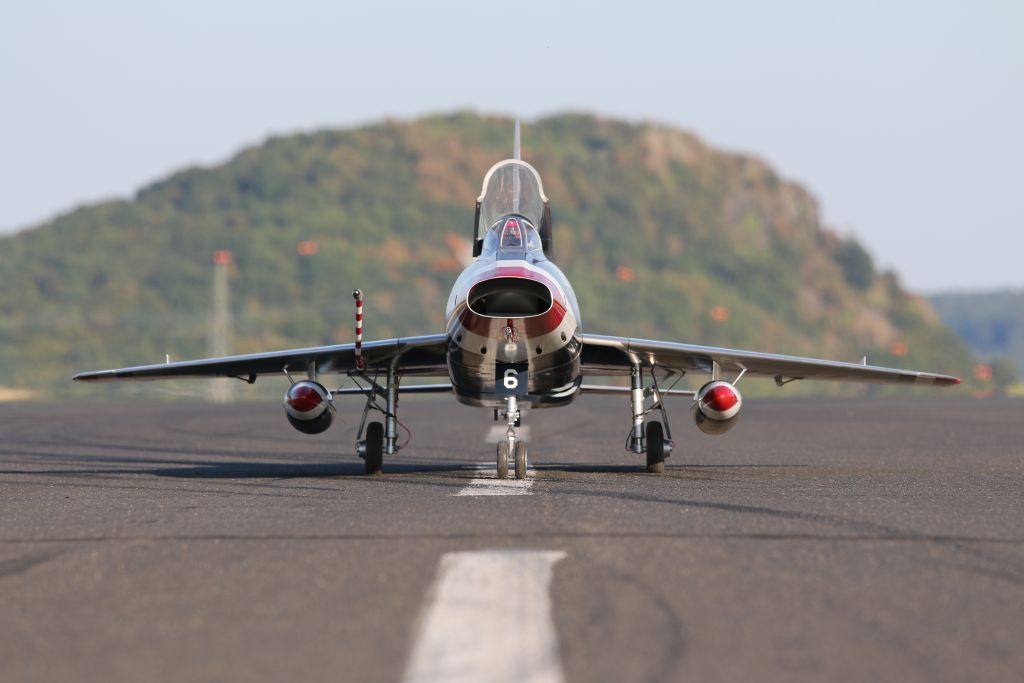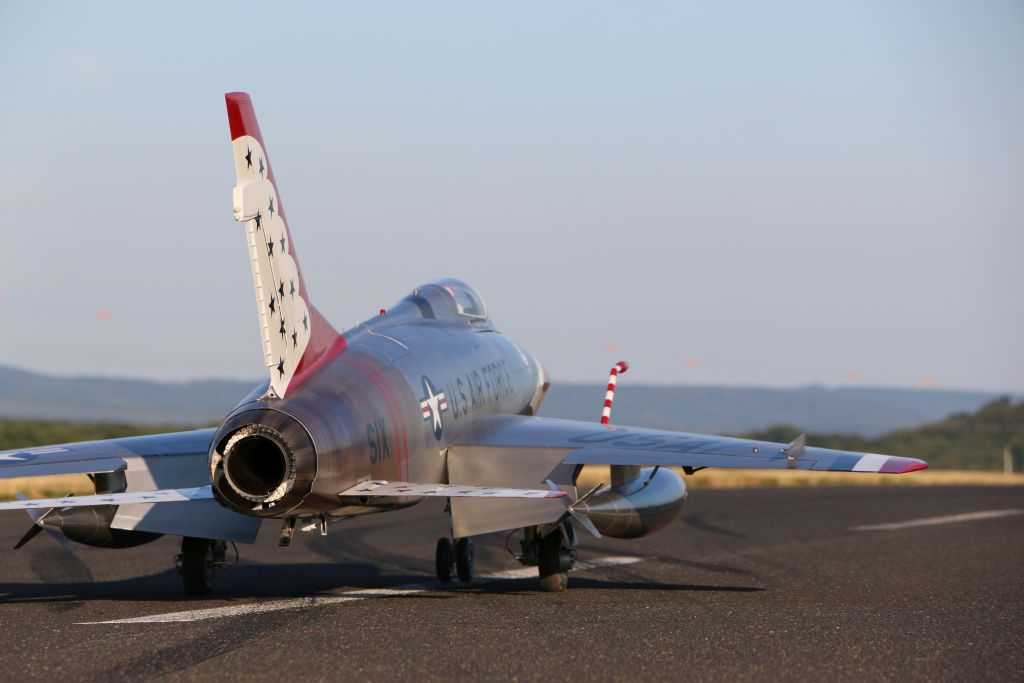 Here a few pictures of an actual model right from the production line, so that you get an idea what you really will take out of the box when purchasing a CARF-Models F-100 Super Sabre:
| | |
| --- | --- |
| gear mount with gear doors which will stay ON! | outer slat servo and aileron servo mounts |
| inner slat servo mount | flying stab control horn with metal ball links |
| aluminum stab pivots with ball bearings | elevator servo mounts |
| rudder servo mount  | rudder torsion linage recepticle |
| rudder torsion linkage | formers even include speed brake cylinder mounts |
| | |
| --- | --- |
| nose gear former with steering servo mount | flap torsion linkage with servo mount and engine mount |
| flap torsion linkage | fuselage separation with 5 pins and bolts |
| rear end - sufficient room to install dual afterburner rings | a hatch that will stay on! |
| | |
| --- | --- |
| removable front windshield to access RC compartment | hinged canopy, removable for cockpit access |
       

included hardware, as complete as it can get                                         gear door attachment parts as an example...

 
 
 
Structure
The aircraft's structure is all composite with lots of carbon incorporated, absolutely necessary due to the use of the thin, scale airfoils on wing and stab. The prefabrication is extreme. Landing gear, engine and servos just drop in. It is almost the only work left for you to do. The main structural parts have more scale details than most other composite planes, and the sheer amount of small scale parts included in the kit is really setting it apart from the rest of the pack. Scale cockpit and a complete lighting package is available as high-end accessory. Release of drogue chute and scale canopy operation is also prepared for. Everything is done right, because everything is allowed. No senseless weight starving has to be carried out. Chose a big engine, don't worry about fuel or smoke capacity - there's almost no limit.
Scale hinged flying stab made in
one strong piece
Full deflection up and down for responsive slow flight
Scale nose gear with special
steering mechanism
hinged canopy to be optionally operated
by pneumatics

efficient flaps with invisible torsion
linkage from fuselage

Main gear with complex door geometry
and attachment
scale exhaust nozzle as a starting 
point for individualization
fully functional leading edge slats
rudder with scale hinge points and
invisible linkage
| | |
| --- | --- |
| |     2500 mm |
|   |      3600 mm (without pitot 3100 mm) |
|   |     32 - 38 kg |
|   |     220 - 300 N |
|   |     12 digital high class servos |
More Information

| | |
| --- | --- |
| SKU | CARF-K332000 |